Dom Antoine de Caulaincourt (1482-1536/40)
Officialis of the Benedictine monastery Saint-Pierre in Corbie, author of Chronicon Corbeiense (Chronique de Corbie) – a history of the monastery from its foundation in the 7th century and until 1529, which is preserved in Caulaincourt's own hand (partially) in the Bibliothèque Nationale –, and other learned writings, and the former owner of the music manuscript Amiens, Bibliothèque Louis Aragon, ms. 162 D. It is not unthinkable that he played the main role in the genesis of this manuscript.
That Caulaincourt once had the MS Amiens 162 in his possession and gave it to the monastery library is made clear by a description of the MS in a copy of an old catalogue of the Corbie library: "Missale. Il se trouve à la fin un office de Ste Barbe pour le confrérie de cette sainte qui était dans l'Église de Corbie à qui Dom Antoine de Caulaincourt donna ce livre. Antoine de Caulaincourt est mort en 1536. Cotté 105 II." (Amiens MS 561, ff. 12-12v; this MS is a copy of another copy (made by Dom Pardessus in 1760s (Paris, Bibliothèque Nationale, Collection de Picardie, tome 15, ff. 1-22)) of an older catalogue from Corbie, which disappeared during the French revolution). Moreover, at the top of fol. 2 in MS Amiens 162, Caulaincourt signed his name in majuscules: "DE CAULAINCOURT" (this important find was made by Charlotte Denoël, see Denoël 2010, p. 89).
In Dom Cocquelin's 17th century abbreviated history of the monastery (Amiens MS 525) Caulaincourt is remembered several times as an author and a vir doctus (p. 30 in a list of "Officialis seu fori ecclesiastici contentiosi præfecti"). In a list of learned men, most of them abbots of the monastery, and starting with St Adalardus (abbot 780-826), St Paschadius Rathberthus (abbot 843-851), St Anscharius (missionary to Denmark and Sweden, 801-865), and Ratramus (monk 825-c. 870), Caulaincourt is listed as the tenth and last ("Academia", pp. 6-7). Among those famed for their remarkable wisdom ("Doctrina conspicui", p. 25) Caulaincourt is mentioned as the third after St Adalardus and St Anscharius.
A parchment Livre d'heures originally printed in Paris by Philippe Pigouchet in 1502 or 1503 (Paris, BN, ms. lat. 18.034) was remade by Caulaincourt in 1530. The calendar covering the years 1502-20 according to the use of Cluny was changed into an Heures de Corbie for the years 1530-46 by erasures and handwritten additions including new decorations and added folios (see Denoêl 2010, pp. 90-94); many of these additions look like the items added to MS Amiens 162.
Caulaincourt has also been the owner or user of a 12th century Lectionaire (Amiens MS 146), which on f. 80v carries the (maybe youthful) inscription: "Antonius de Caulaincourt cum Johanne de Crequi, qui fuit, qui est pro presenti et qui reit pro futuro, mediante gratia Christi, Amen". Joannes de Creques/Crequi was a novice with Caulaincourt and is often mentioned in his chronicle.
Life (cf. Amiens MS 524 and Garnier 1856)
C. 1482-83, C was born in a noble family. He was probably the second son of Jean III de Caulincourt and Jeanne Le Vasseur who married in 1480. His uncle, Renaud Le Vasseur, was a monk in the Benedictine monastery Saint-Pierre in Corbie who in 1489 became thesaurarius (guardian of the treasury and maybe also of the library) of the monastery and later supremus superior claustralis (died December 1517).
1489, June, C entered the monastery in Corbie as a novice, as the youngest and lowest in the monastic hierarchy "et ego ultimus et quadragesimus sextus in ordine" (p. 328).
1495, December, the auxiliary bishop of Beauvais and bishop of Nazareth (Episcopum de Nazaretho suffraganeum Bellovaensem) tonsured C and the other schoolboys against the privilege of the abbot ("vim privilegiorum") as C writes (p. 333).
1496 ("1495"), January, C left Corbie with Pierre Cossart, the "duo primi in scholis", in order to continue their schooling in Amiens. C stayed here for more than three years.
1499, May 20, C left the school in Amiens and returned to Corbie, where he in the choir of Saint-Pierre was ordained a subdiaconus by his older cousin Jean le Vasseur, suffragan (auxiliary) bishop of Thérouanne and titular bishop of Gebal (Byblos, episcopum Gebeldensem).
1500 ("1499"), January, C was ordained a diaconus in Carlepont by the bishop of Noyon.
1501, August, C and six other young monks were received as full members of the Benedictine order by Pierre d'Ostrel, the abbot of Corbie since 1483.
1501 C mentions in his chronicle two confraternities in connection with the abbey "... in confraternitatib. Sanctorum Mariæ Magdalonæ & Barbaræ ...." (p. 336). Abbot Pierre d'Ostrel began the building of a new Abbatiale in Corbie.
1502, at Easter, C was sent to Paris to study for ten months with his cousin Jean Le Vasseur, suffragan bishop of Thérouanne, prior of the Dominican convent at Saint-Omer and professor of theology in Paris (died 1508).
1503, after his return to Corbie, C was ordained a priest in Noyon by the bishop along with Jean Du Four and Jacques de Renty "... promoti ad ordinem presbyteratus" (pp. 341-342); however, they were not accorded the right to celebrate Mass due to their deficiency in age.
1504, September, the abbot obtained a dispensation from the archbishop of Rouen, George d'Amboise, for C and Jacques de Renty permitting them to say Mass, and at Advent they were installed as magistri novitiorum (teachers of the novices).
1505, September, C was made magister cameræ conventus of the monastery.
1506, August 14, abbot Pierre d'Ostrel died. C was a staunch supporter of abbot d'Ostrel, and he stubbornly continued the late abbot's fights for Corbie's independence and glory. In his chronicle C remains a strong proponent of monastery's traditions and he offers a dramatic and quite coloured account of the turbulent decades, which followed d'Ostrel's death.
1506, the monks elected Guillaume de Caurel as abbot and this started a renewed dispute with the French crown and with contenders to the title about the right to nominate the abbé-conte of Corbie. This evolved into a long struggle with first the bishop of Amiens, François de Halluin, and later with the cardinal louis de Bourbon, which escalated into physical violence as well as excommunications of monks, including C. The unrest surrounding the position as abbot only came to an end with Philippe de la Chambre's (the later cardinal of Bologna) nomination as abbé commendataire in 1523 and his final instalment in 1528. C often took on the role of spokesman for the rights of the monks, which brought him in conflict with both his abbot and external powers.
1510, C was promoted to the office of pincernaria (responsible for the serving of wine) and later became the abbot's chaplain.
1513, September and November, the French king, Louis XII, stayed twice in the monastery. The landing of English troops had called him to Picardy. C recounts with pride that the king during the second stay of twenty days preferred to live in C's rooms.
1516, December, C was promoted to prévôt de Naours "propositus de Naouldis". This position permitted him to stay on in Corbie as one of the monastery's higher officers.
1517, C was nominated cellerarius aquarum, and during the same year he was princeps or maître of the Confrérie Saints-Innocents, which existed at the Abbatiale Saint-Pierre (p. 365 and Dusevel 1861, p. 31).
1520, six monks including C journeyed to Paris to plead in vain the monastery's cause in the parliament. They stayed from Christmas to Easter next year.
1521, C and the monks returned to Paris to continue their defence against the demands of the cardinal de Bourbon and followed the king and court to Dijon "... cum maximus expensis, & periculis corporum nostris ..." (p. 369).
1522 ("1521"), January, C was installed in one of the most powerful positions at Corbie, as officialis (chairman of the clerical court – p. 373).
1522, November 10, abbot Guillaume de Caurel died.
1536 or 1540 Caulaincourt died - the Corbie library catalogue states "1536" (see above), while Garnier 1856 gives the date as "1540" without mentioning his source. The source was probably Amiens MS 525, which p. 30 says that Antoine Turban followed C as officialis in 1540.
Sources
Caulaincourt's Chronique de Corbie is preserved in four manuscripts (see Denoël 2010, pp. 83-84):
Paris, Bibliothèque Nationale, ms. lat. 17.757, ff. 1-123, [Chronicon Corbeiense] (Corbie; a partial autograph by Antoine de Caulaincourt, 16th c.)
Paris, Bibliothèque Nationale, ms. lat. 10.111, pp. 1-345 (copy by Maître Jacques Vuauquet, 17th c.)
Paris, Bibliothèque Nationale, ms. lat. 12.893, ff. 1-180v (Corbie; copy, 17th c.)
Amiens, Bibliothèque Louis Aragon, ms. 524 D, pp. 1-441, Perantiqui et insignis admodum monasterii S. Petri de Corbeia fondatio (Corbie; copy, 17th c.)

Amiens, Bibliothèque Louis Aragon, ms. 146 C, Lectionaire (12th c.)

Amiens, Bibliothèque Louis Aragon, ms. 525, Historiae regalis abbatiæ S. Petri Corbeiensis compendium primordia (by Dom Cocquelin, c. 1675, ed. in Garnier 1845)

Amiens, Bibliothèque Louis Aragon, ms. 561 D, Catalogue des livres manuscrits de la Bibliothèque de l'abbaye de Corbie (1841)

Paris, Bibliothèque Nationale, ms. lat. 18.034, Livre d'heures (printed in Paris 1502/03 by Philippe Pigouchet as an Heures de Cluny; manuscript additions and changes by Caulaincaourt c. 1530 turn it into Heures de Corbie, see Denoêl 2010, pp. 90-94).
M.H. Dusevel, Histoire abrégée du trésor de l'Abbaye Royale de Saint-Pierre de Corbie. Nouvelle édition, augmenté. Amiens 1861
Jacques Garnier, Catalogue descriptif et raisonné des manuscrits de la Bibliothèque Communale de la Ville d'Amiens. Amiens 1843

Jacques Garnier (ed.), 'Historiæ regalis abbatiæ corbeiensis compendium. Auctore Dom. Benedicto Ccquelin ... Edidit et annotavit J. Garnier', in Mémoires de la Société des antiquaires de Picardie. Tome VIII, Amiens 1845, pp. 377-534
Jacques Garnier, Notice sur Antoine de Caulincourt, official de Corbie (1521-1540). Amiens 1856
Charlotte Denoël, 'Antoine de Caulaincourt (1482-1536/1540 ?), official de l'Abbaye Saint-Pierre de Corbie, historien et possesseur de livres', Scriptorium. Revue internationale des études relatives aux manuscrits LXIV (2010), pp. 81-94.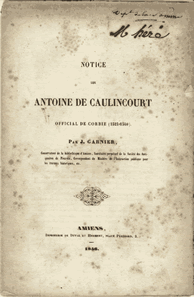 A complete facismile of the Notice (Garnier 1856; pdf-file, ca. 4 MB)
PWCH 2007 (revised 2015)